TZR125 Fairing
TZR125 Road Bike
Had a lot off work with the fairing, looks like it had more cracks/holes then I hoped fore.

While repairing there was a point that I wish a good fairing set popped up on Ebay.

But as usual, nothing came.

So only one option left, repairing it all.

All repairs are done by soldering the crack at the frond (using a iron), roughen up the back and use polyester repair.

The frond is then smooth with polyester putty.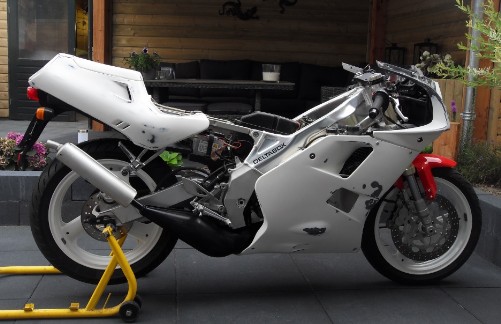 It went so far had to buy a top fairing from Ebay so could use parts from it.

Here you see I took a peace from the yellow fairing and mounted it on the original one.
Here it is all fitted to see if its all right.

(Where you see black, there it is repaired)
Although it is repaired with a completely different peace, both sides line up nicely.
Not good visible on this picture, but this side hade a lot off cracks at the lower part.

All repaired now
Someone drilled a hole here, don't know way
Also the V-peace is repaired and fits perfectly.